Clarrow's expense tracker app was designed with freelancers in mind. Easily attach expenses to client invoices and connect your bank account to make sure you never miss another expense. It's time to take control of your freelance business, and we can help.
What is an Expense Tracker for Freelancers?
An expense tracker is an application or tool that keeps an accurate record of the money you spend on business-related expenses, including mileage, client costs, and payment processing fees.
Tracking these expenses in real-time (rather than organizing a box of paper receipts at the end of the year!) improves accuracy and makes tax time much easier. It also ensures you never forget to submit reimbursement to your clients.
Online expense trackers like Clarrow often include other freelance business tools, like invoice creation and time trackers, making it easy to keep all your financial records organized in one place.
Let's look at the benefits and features of an expense tracker.
Why is Tracking Business Expenses Important for Freelancers?
No one becomes a freelancer because they like paperwork.
Tracking freelance expenses might not be fun, but it is crucial to running a profitable freelance business. Here's how a freelance business tracker can make the business side of freelancing easier.
Streamline Tax Time
Between business supplies, software subscriptions, and client costs, most freelancers spend a bundle running their business. Fortunately, many of those costs can be deducted from your taxes. An expense tracker tracks these expenses throughout the year so you don't spend hours organizing expenses come tax time.
Set Accurate Rates
As a freelancer, setting fates can be a challenge. Accurately tracking business expenses ensures you know how much your business costs to run. Use this knowledge to set rates that reflect your real worth.
Save Time & Money
Have you ever forgotten to charge a client for a reimbursable expense? Or forgotten to claim a business expense on your taxes?
AI-powered expense trackers like Clarrow connect to your bank account and automatically look for expenses you might have missed. You have more time to focus on your clients and never have to worry about forgetting to charge (or claim) an expense again.
Toss the Paper Receipts
Tired of saving up receipts all year just to spend hours sorting them come tax time? An expense tracker can track and store documentation of expenses — so you can say goodbye to your paper receipt box.
Look Like a Professional
Whether you run a one-person shop or have a small team, looking professional is the key to landing high-paying clients. An expense tracker doesn't just make bookkeeping easier; it also shows clients you are a professional they can trust.
Top Freelance Expense Tracker Features
Tracking expenses can take up crucial time you could spend on growing your freelance business. If that sounds like you, it's time to find the right expense tracker. But, there are dozens of tools on the market — so which one is right for your freelance business?
Let's take a look at the top expense tracking features and how they can help your freelance business succeed.
Bank Account Integration
Spend less time tracking and more time working with bank account integration. Login to your bank account and your expense tracker automatically looks for expenses you can claim and lets you add them to client invoices.
Automation Features
Does your business need another set of hands? Maybe not. Automation features improve expense tracking accuracy and save time — so you can focus on other business tasks like creating proposals, sending out invoices, and finding new clients.
Categorize Expenses
Keeping expenses organized doesn't have to be a hassle. Expense trackers should allow you to assign categories to each expense so you can stay organized. For example, food and drink, bank fees, and services can be labeled so you can see where your money goes.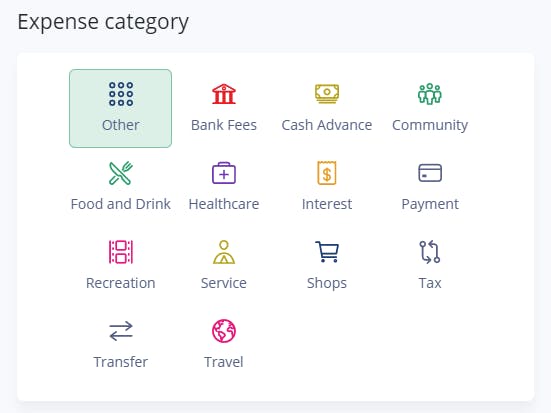 Attach Receipts
Say goodbye to that shoebox of paper receipts! Choose an expense tracker that allows you to store copies of invoices, receipts, and other documentation you need for expense tracking all in one place.
Attach Expenses to Invoices
There are two main types of expenses — tax-deductible expenses, which you can write off on your taxes, and client reimbursable expenses that are charged to your clients. If you track client expenses, your expense tracker should make it easy to assign costs to clients and attach them to your invoices.
Security
Protecting your information from fraud and identity theft should be a top priority. Make sure your expense tracker uses encryption and password protection to keep all your financial data safe from prying eyes.
Not all expense trackers will offer every feature — and you might not need every one we've listed above. However, this list of features should help you determine what features you need to succeed.
What Expenses Should Freelancers Track?
We aren't tax professionals, but we do know a bit about freelance life. Not sure if an expense tracker is worth your time? You might be missing out on tax benefits and client reimbursements. Here are a few key expenses freelancers should track.
Client Expenses
You have to spend money to make money, or so the saying goes. If your freelance business includes reimbursable client expenses, you may need help to track them accurately. An expense tracker tool can scan your bank account for possible client expenses and assign them to a client with the click of a button.
Business Development Expenses
Courses, training, and certifications are critical to business growth. In many cases, those costs can be written off come tax time. Simply swipe your business card, and your expense tracker will ask if it's a business expense. Get smarter and save money on taxes— it's a win-win.
Software and Other Subscriptions
Technology makes it easier to run your business — but those costs can add up. Use an expense tracker to ensure you don't forget to write off all those costs on your taxes. Security software, word processors, writing tools, data analytics software, and graphic design costs can usually be written off on your taxes.
Payment Processing Fees
Payment processing fees from platforms like Stripe and PayPal are part of doing business. The good news is those costs can usually be claimed against your tax obligation. Track these costs throughout the year so you don't have to spend hours sorting spreadsheets come tax season.
Mileage
Does your freelance job require driving? You'll want to track your mileage for reimbursement or to claim against your taxes. An expense tracker app can make it easy to record mileage and gas costs.
Office Expenses
Depending on the details of your business, you may also be able to write off the cost to rent an office or coworking space, a portion of your rent or mortgage, utilities, and other office-related expenses. Track these throughout the year and ask a tax professional if they can be written off at tax time.
Clarrow, The Freelance Expense Tracker You've Been Looking For
Expenses shouldn't be a headache—and they don't have to be with Clarrow's freelance expense tracker.
Clarrow is an all-in-one business tool designed to help freelancers work more efficiently. Our expense tracking tool makes it easy to track business expenses, store receipts, attach reimbursable client expenses to invoices, and import expenses from your bank account.
Expenses tracking just got a whole lot easier!